Non-Stick Reusable Barbecue Cooking Grilling Mat
Regular price ₱1,398.00 ₱699.00 50% OFF
Never barbecue on a nasty, dirty grill grate AGAIN! 
For great taste and healthier option cooking recipes. This grill mat does the job. Keep your food from falling between the grates or sticking to the grill.
Expand your cooking experience with this grilling mat in delicate foods such as fish, shrimp and veggies, even add sauces and nothing will drip through. GRILLING LIKE A PRO.
Easier to use than a grill pan or basket and more effective than aluminum foil that rips when you flip your food. 
Our grill mats work with any kind of barbecue grill - gas, electric, charcoal grills and even the oven. Easier to travel with than pots and pans for camping or picnics! Besides, our mats can be cut to any size or shape to fit any need.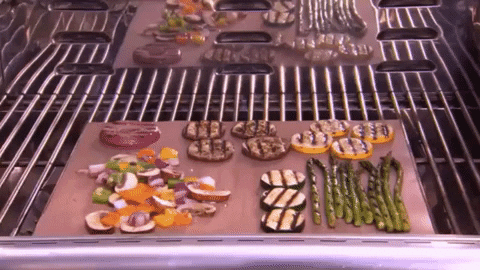 Grill with ease and still look the part, anytime, anywhere.
NON-STICK, EASY TO CLEAN & REUSABLE - No more scrubbing grill grates every time you cook! Simply remove the grill mat once cool, wipe with a soft damp cloth and throw on to top shelf of dishwasher.
Specification:
Size: 40 x 33cm
High temperature, environmental protection, and direct contact with food.
Place foods that are not sticky, waterproof and oil resistant.
Easy to clean, oily, clean, effortless and worry-free.
GRAB YOURS NOW!
FREE SHIPPING DELIVERY NATIONWIDE!
people are currently looking at this product