Shiatsu Neck & Body Pillow Massager
Regular price ₱3,000.00 ₱1,399.00 53% OFF
ONE MAGIC PILLOW, 6 MASSAGE METHOD TO ENJOY!
Relax at the office, in your car, and at home thanks to the Gideon Shiatsu massage pillow. This model features eight rollers which greatly contribute to the quality of the massage you'll get. This massager also heats up which can relieve muscle tension and aches. 

Shiatsu Neck & Body Pillow Massager is a perfect massage spot that directly massage your neck, lower and upper back, shoulder, lumbar, waist, leg, calf, foot, and so on. With its compact ergonomic W-design pillow massager that fits perfectly behind neck and body contours.
Ideal for people who work at a computer all day or endure long commutes, the curved, ergonomic shape is designed to fit perfectly against your upper-back, neck or other sore body parts such as thighs, shins and feet
Instant Tension Relief Shiatsu Massager
Compact and powerful shiatsu massage pillow with eight deep-kneading rotating balls that target tension pressure points and loosen kinks and knots in your shoulders, neck and back to help you relax and unwind
Heated Therapeutic Action Shiatsu Massager
Circulating balls switch from clockwise to counter clockwise rotation to target just the right sore spots with advanced heating function helps soothe and warm tight muscles, ligaments and tendons
Neck, Shoulder, Back Shiatsu Massage on-the-go
Portable massage cushion includes adapters for use at home, the office or on the road with elastic strap that fits on chairs or car head rests so you can enjoy a relaxing shiatsu massage while stuck in traffic or at home in your favorite chair
 Durable and Safe Shiatsu Massager
Includes UL-approved power adapter that works with both 110-120V and 220-240V electrical outlets and overheat protection that automatically shuts off the massager after 20-minutes to ensure safety
360 DEGREE IMAGE VIEW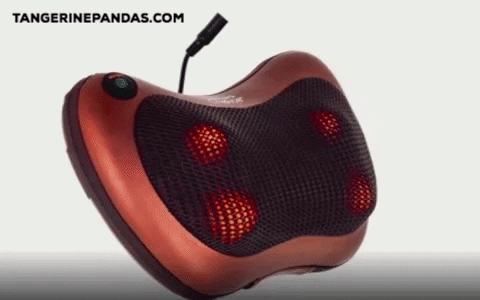 Package Includes:
1x Massager unit
1x Electric plug cord
1x Car charger 
Frequently Asked Questions:
Can you make the rollers go slower or faster etc?
No. It's only one speed. It's not too fast--it's just right.
Is this massager designed to also work effectively for mid and lower back relief?
Most definitely.
How about the quality and feeling when you using it?
You'll be surprise by the quality of the rotating shiatsu massage experience. Strap it to the back of a chair and then easily adjust the height to your liking. Because it's small you can get creative and use it just about anywhere on you body (neck, legs, etc..). The infra-red heat is great and definitely loosens up the muscles.
Can this only be used while plugged in?
Yes- it does not have a cordless option. 
Grab yours now! FREE Shipping delivery NATIONWIDE!
people are currently looking at this product